Overview
The bitter, cold winter approached my city in Southern California. The days were growing shorter and shorter. I knew it was time to plan our next tropical vacation.
Puerto Rico was a very wise choice for a number of reasons. One, it does not require a US passport to enter the country. Also, no need to go through the airport's time-consuming customs to get back into the country.
Secondly, the travel time was minimal (considering some of the other long-haul flights I've taken in the past). The first flight was approximately five hours to Fort Lauderdale, Florida. The second flight was a quick 2-hour commute to San Juan, Puerto Rico.
And thirdly, no extensive planning was needed. Because Puerto Rico is a United States territory, I didn't have to worry about learning a new language. And a bonus reason, flights are very reasonably priced!
Puerto Rico, while small in stature, is a mystical Caribbean island offering towering waterfalls, the El Yunque tropical rainforest, refreshing blue waters with white sandy beaches, and historical landmarks. No one can question why Puerto Rico is a vastly popular vacation destination. It was difficult to formulate the perfect Puerto Rico itinerary in just five days with EVERYTHING there is to see and do. 
Top Tips for Puerto Rico Travel
The dominant languages spoken in Puerto Rico is Spanish and English. I know very little Spanish, but I was able to communicate with no difficulty here on the island.

Phone cards and calling cards are readily available. Keep in mind too, since Puerto Rico is a United States territory, a lot of phone service providers will continue to allow you to use your cell phone at no additional cost. Make sure to contact your provider for more information.

Transportation in Puerto Rico is easy with the number of options the island provides. From renting a car, Uber, and an easy-to-navigate public transportation system, you'll never have to park your toosh in one spot.

Health standards are comparable with those of the United States. Additionally, tap water in Puerto Rico is usually safe to drink, so no need to unnecessarily buy plastic water bottles. Need a reusable travel water bottle? Check out my post here!

For United States citizens, there's no need to carry passports or visas to enter the country. US citizens can travel freely to and from the island without going through immigration. Citizens of other countries have the same requirements as for entering the USA.

Safety for tourists in Puerto Rico is of little concern, but robbery and theft does happen occasionally. Be mindful of your belongings, and make sure to lock your accommodations and car doors. Don't be fearful for your safety, but don't be careless either.

Always keep a copy of your important documents with you, as well as at home. For more tips on travel safety, visit my post here. 

Puerto Rico uses the US dollar, so no need to worry about converting your money to another currency.

AND don't forget to purchase your travel insurance!
See also:
Best Self-Care & Wellness Activities in Puerto Rico
– Visit the Zen Spa in San Juan! Zen Spa is a leading health and wellness spa in Puerto Rico. This spa offers a variety of different massages, personal care, and beauty care.
– Yoga. There are a handful of yoga studios provided throughout the island, and even yoga wellness retreats offered year-round!
– Kayak and snorkel through the beautiful bioluminescent bay! Puerto Rico has three bioluminescent bays to choose from.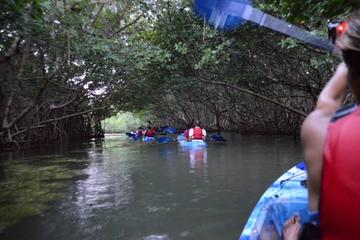 Bioluminescent Bay Glass Bottom Kayak Tour from San Juan
– Hike through the El Yunque National Rainforest! This activity is also included in my Puerto Rico Itinerary guide! Check it out here: El Yunque Off the Beaten Path Hiking Tour
– Take a soothing jog on one of Puerto Rico's many beautiful white-sand beaches!
Best Time to Travel to Puerto Rico
Because Puerto Rico is located in a tropical climate, the country enjoys year-round summer temperatures averaging 80 degrees Fahrenheit. The peak tourist (or busy) season is between December and April. During this time, the people of the US are escaping the cold winter temperatures (much like myself).
July and August see another peak in tourist seasons, while May and November are considered the low (least busy) seasons. The island of Puerto Rico does fall in the hurricane belt, so keep that in mind when planning your Puerto Rico itinerary. Between June 1 to November 30, it's considered hurricane season. During this time, the weather can be very unpredictable. 
If you're looking for a Caribbean island that doesn't fall in the hurricane belt, find my guide to Aruba travel here.
Where to Stay in Puerto Rico
The most common location people find accommodations is in San Juan. San Juan has an abundance of selections to choose from. These include high rise hotels, small boutique-style hotels, all-inclusive resorts, beachfront hotels, family resorts, villas, hostels, and Airbnbs. 
First time using Airbnb? Get up to $55 toward your Airbnb stay with my coupon code, here.
Recommended 5-Day Itinerary for Puerto Rico:

Day 1: Explore Old San Juan
San Juan is Puerto Rico's capital and largest city. This area is known for its plethora of hotel strips, beach bars, casinos, and nightclubs. The Old San Juan neighborhood features colorful Spanish colonial buildings and fortresses that are just too unique to pass up.
 Exploring Old San Juan is so vital to experience Puerto Rico and it's culture, I have an entire post dedicated to it here.
See also:
Day 2: Take a Casa Bacardi Rum Tour & Brava Nightclub
The Casa Bacardi rum tour is a highly recommended activity in Puerto Rico. Here is where you'll learn first-hand how the company makes the famous Bacardi rum. There are a few different tour options in which you can choose.
 The historical tour with start you off with a complimentary rum cocktail, and then walk you through the distillery while sharing the company's history of craft and innovation.
 The rum-tasting tour is a guided tour that shares with you how they make their rums and offers six tastings!
 The third Casa Bacardi tour is a mixology class that teaches you how to mix their rums to create one perfect cocktail!
 In the evening, head over to the El San Juan Hotel and Brava Nightclub for some elegant drinks and dancing 'til the sun comes up!
Day 3: Toro Verde Adventure Park & Laguna Granda
The Toro Verde Adventure Park is the largest zipline and adventure park in the Caribbean and Americas. Toro Verde is centrally located in Puerto Rico, away from the hustle and bustle of the city and within the most beautiful forest landscapes and mountainsides. Purchasing a day pass at Toro Verde Adventure Park will give you an exciting day full of adrenaline, screams, and amazing views!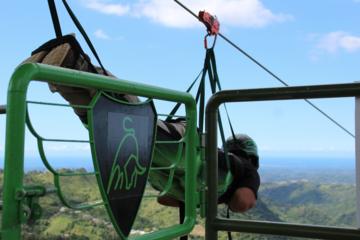 Extreme Zipline at ToroVerde Adventure Park in Puerto Rico
The biggest attraction here is the Monster. The Monster is the longest zipline in America and the second-longest in the world. It's just short of the one located in Dubai. Its length is equivalent to 28 football fields, and you can easily reach speeds of up to 95 miles per hour while being over 380 meters high!
In the evening, opt into the Laguna Grande night kayaking tour. There you'll experience one of Puerto Rico's bioluminescent bays. The bioluminescent bays are famously known for its blue-green glow in the moonlight.  Check it out here: Yunque Rainforest, Luquillo Beach and Bioluminescent Bay Kayak Tour.
Day 4: Rent a car and explore the island
If you haven't already done so, I suggest renting a car for at least a day or two to explore Puerto Rico fully. Being able to explore by car and independent from tourist groups was the highlight of our entire vacation!
El Yunque Rainforest. The first place we hit up was the El Yunque National Rainforest. El Yunque is the only tropical rainforest in the national forest system of the US. It's small in size, so it's easily condensable into a half-day trip (or even less. We spent about 3-4 hours here). The El Yunque rainforest is a natural treasure full of hiking trails, natural pools, waterfalls, and breathtaking scenery.
Mar Chiquita Beach. Mar Chiquita is a popular natural pool created by two large limestone walls. It is perfect for a quick dip in the ocean and soaking in the sun. The area offers umbrellas and chair rentals. There are even some food trucks serving authentic Puerto Rican fritters and refreshing beverages. I loved swimming in Mar Chiquita because it felt like I was in a natural wave pool! Plus, it was cool seeing an aerial view of the beach with my Mavic Air drone!
Gozalandia Waterfalls in San Sebastian. San Sebastian, Puerto Rico was such a beautiful area that I wish we had more time to explore. Here you will find some of the most breathtaking and majestic waterfalls, and natural pools with Gatorade-blue water. Here you can enjoy swimming under the waterfalls, or you can take a hiking excursion from Rincon. There are even some natural water slides to revel in!
There were more site-seeing activities we would have liked to add to our Puerto Rico itinerary if time had permitted!
Day 5: Isla Culebrita 
On our fifth and final day, we took a catamaran cruise to the beautiful, world-renowned island of Culebra. Full disclaimer, due to weather conditions, we were unable to sail to the island of Culebra. Instead, we docked at closer islands with much less choppy waves. Although we were unable to make it to Culebra, thanks to the tasty lunch, catchy tunes, and bottomless rum drinks, we had a blast!
Save this itinerary for later! PIN ME!