Image provided by Shutterstock
Overview
So, you're planning a vacation to the beautiful, historic city of Old San Juan, Puerto Rico?
After all, this city is one of the most popular cruise destinations within the Caribbean and the most touristed place on the island of Puerto Rico. And for a solid reason. Thanks to conservation efforts, this magical city remains comparatively the same as it did 300-400 years ago, with almost 400 restored 16th and 17th-century Spanish colonial architecture.
To experience the most out of your visit to Old San Juan, it's best to look up a self-guided walking tour (like the one in this post!), so you don't have to worry about missing out on all the must-sees and must-dos.
While Old San Juan is easily explorable in a day, don't underestimate the variety of exciting and intriguing attractions that will take up plenty of your time! From all the unique shops, colorful buildings, historical forts, sunny beaches, and delicious cuisine, you'll need to set a solid pace to experience it all!
The good news: everything in Old San Juan is within walking distance!
Top Health Tips for Old San Juan
Protect your skin from the hot, intense sun by applying sunscreen periodically throughout the day. It also may be wise to bring a hat or umbrella to shield your exposed skin from the direct sunlight. That Caribbean sun is hot! For more helpful tips on proper skin care while traveling, read this post.
Apply mosquito repellent. With Puerto Rico being a tropical climate, mosquitoes can be quite prevalent. I, unfortunately, ended up with a few mosquito bites after walking through Old San Juan. If you would like to learn more about how to further avoid mosquitos, read my post on it here.
Bring a water bottle. Puerto Rico has a hot, humid climate. Make sure to stay hydrated by bringing your refillable water bottle. Don't have one? Read my post on the list of best travel water bottles here.

Wear comfortable, sturdy shoes. You will be doing a lot of walking! Not to mention, the majority of the streets make up of uneven cobblestone. Also, Old San Juan is a mountainous city. Keep in mind you'll be doing quite a bit of uphill and downhill trekking. No need to fit in a workout today!

Protect your belongings. While Puerto Rico is a relatively safe country, it's still wise to keep all valuables on your person and be aware of pick-pocketers.
See also:
Where to Stay in Old San Juan
Hotels
.
Hotels are very easy to come by in Old San Juan and can range from budget travel, boutique-style, to luxury. My favorite website for hotel searches is Agoda, a website where I frequently will book my hotel rooms while I travel. You'll find some of the lowest prices, daily sales, and price cuts, so make sure to check it out!
Airbnb
.
Old San Juan offers several cute and quaint Airbnbs, which can be much cheaper than booking a hotel room. First time using Airbnb? Get up to $55 toward your Airbnb stay with my coupon code, here.
6 Unmissable Things to do in Old San Juan 
1. Casa Cortes Chocobar. 
Casa Cortes Chocobar was our first stop into Old San Juan for a cute, chocolatey breakfast. While researching where we wanted to eat for breakfast, I came across this place and how it was famously known for having chocolate as its main ingredient in EVERY dish! The restaurant is a family-owned business that has been crafting chocolate in the Caribbean since 1929. Dustin had a cheeseburger with chocolate sauce, and I had the chocolate grilled cheese! Both were surprisingly very delicious! 
2. Fortaleza Street (Restaurant Row)
.
Fortaleza Street, nicknamed "restaurant row" and even "umbrella street," is one of the major shopping destinations in the entire city
. 
While walking down the lively street, you can treat yourself to just about anything! From fine jewelry, Puerto Rican coffee, crafts, and clothes, to all the major restaurants ranging from all different kinds of cuisine. For all the foodies, Old San Juan has made it quite convenient to find all it's top restaurants to all one central location. Additionally, you'll see just down this street a colorful umbrella exhibition- which is becoming quite famous on Instagram!
3. Paseo de la Princesa. 
Paseo de la Princesa is a lovely tree-lined street with beautiful gardens, benches, statues, and a nicely shaded restaurant. You'll also come across a few vendors selling everything from souvenirs and trinkets to food, as well as performers playing festive live music. This promenade is a great place to check out if you want to get an authentic feel for the city and Puerto Rican culture.  
4. La Casa Blanca.
If you're looking for a true glimpse into the historic old town, head to La Casa Blanca. La Casa Blanca was built back in 1521 and was declared a historical monument by the government in 1967. Inside the building, you'll find items old enough from the 16th and 17th centuries that are just a wonder to ponder over.
Outside, you'll find lively green gardens, long fountains, and detailed statues. We spent the majority of our time here in the garden. It was quite refreshing and a nice break to get away from the sun briefly. The garden provides immense shade and has a cooling breeze blowing through the quart yard.
Admittance into the Casa Blanca museum is five dollars for adults and three dollars for children and seniors. The beautiful gardens are free for anyone to enjoy.
5. Plaza La Rogativa. 
Plaza La Rogativa is a great place to soak in all the incredible views of the city. This plaza has an iconic square, displaying many of the city's most famous landmarks right from the center. You'll be able to see San Juan Bay, the infamous La Fortaleza governor's building, and the beautiful island of Cabras (Isla de Cabras) national park. 
6. Natural Historic Site of Castillo San Felipe del Morro. 
This attraction is almost impossible to miss as it's one of the most visited and intriguing landmarks of the entire city. You couldn't even try to ignore the sizeable military fort across a large, grassy field. In the area, we witnessed children running and playing, and many children and adults alike flying kites! Once you make your away across the field, you'll be greeted by the entrance into a vast, six-foot fortress initially built to block invaders from seizing the city.
The fort is a National Historic Site by the United States National Park Service. The fort is open daily, and there is a seven-dollar entrance fee for adults (children are free). Military personnel and veterans enter the park for free (we were able to get in for free thanks to Dustin's veteran status!)
If you're spending more time on the beautiful island of Puerto Rico, check out my
5-day itinerary here
! Want to opt-in for a guided tour? Check out: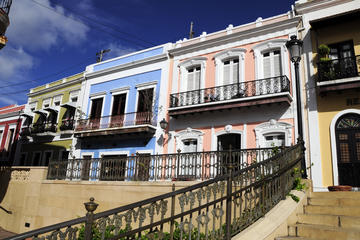 Old San Juan Walking Tour
Like this post? Save this pin for later!
|